Rated #1 iN Northern California
Come and experience the difference of working with a well-managed paving company.
Emergency Jobs
On-demand repairs and emergency service orders with quick turn-around. We give you priority over our other clients for a small extra fee.
Asphalt Work
New asphalt installations, repairs and upgrades. Removal and replacement service orders as well as complete remodeling and relocation.
Concrete Work
New concrete installations, repairs and upgrades. Removal and replacement service orders as well as complete remodeling and relocation.
ADA Compliance
Installation, repairs and upgrades of ADA ramps, handrails, signage and domes to bring your property up to code.
Striping
Repaint, renew or upgrade your pavement stripe markings.
Sealcoat
Protect and resurface your asphalt pavement with our sealcoating services.
We Love Paving, INC
2 months ago
Scott F gave We Love Paving, INC a 5 star review
Scott F said "We Love Paving provided the upmost professional work for me on a project that I am building in Palo Alto, Ca. I have been in construction for 30 + years and I was impressed by their on time work and quality that...
Request A Consultation & Estimate
Fill the form below with project details.
Frequently Asked Questions
Do you offer quick turn around?
Yes. We offer emergency service calls for customers that need a job performed quickly. We can often prioritize this type of work in our calendars regardless of its size ahead of our other day to day projects. We know our clients need their emergency projects completed ASAP due to deadlines or liability/hazards they can be exposed to.
Are you open to working with general contractors?
Yes. We often associate and work with general contractors to help them complete the paving/grading portion of their projects. We know how to treat our general contractors well and we're always prompt, professional and reliable in all our interactions.
Do you offer guarantees?
Yes. Our work is of high quality and good workmanship. We guarantee our work to be free of cosmetic* and structural defects* in addition to workmanship defects.
Do offer monthly maintenance programs?
Yes. We offer special subscription based programs where for a good monthly/yearly fee, your property's pavement is kept well maintained. We know that maintenance of your pavement is crucial to prolong its life and reduce costly repairs in the future. And for that reason we offer this program for our clients who are proactive in taking care of their pavement at a discounted rate of what our normal rates would be.
Do you offer construction work over the weekends?
Yes. We know that for many of our clients it's imperative that their projects are completed over the weekend, and for that reason we offer special "Weekend Service"… This is to help alleviate traffic congestion in shopping centers, apartments or office buildings.
What areas do you service?
From our headquarters in Santa Clara, CA, our typical service footprint covers the SF Bay Area, including but not limited to the South Bay, East Bay, Peninsula, SF City, North Bay and Contra Costa counties. However, with the addition of our satellite locations, we can extend our service reach. We can service the coast as far down as Santa Cruz, Salinas, and Monterrey. As far up north as Santa Rosa. And as far east as Sacramento, the Sierras including Truckee and South Lake Tahoe.
Have a different Question?
Testimonials - Our Clients Love US!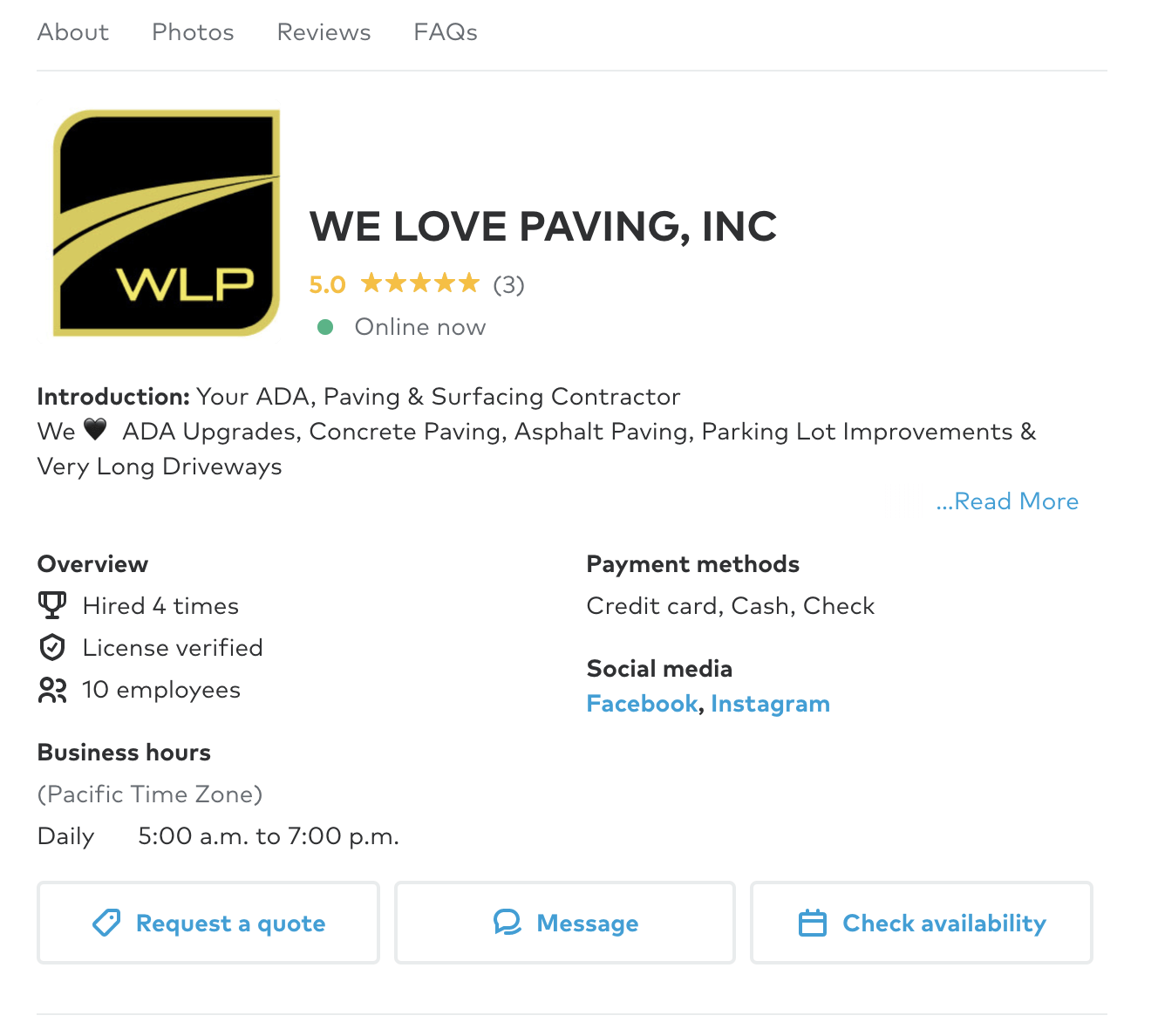 Thumbtack Loves Us
See our good reputation on Thumbtack.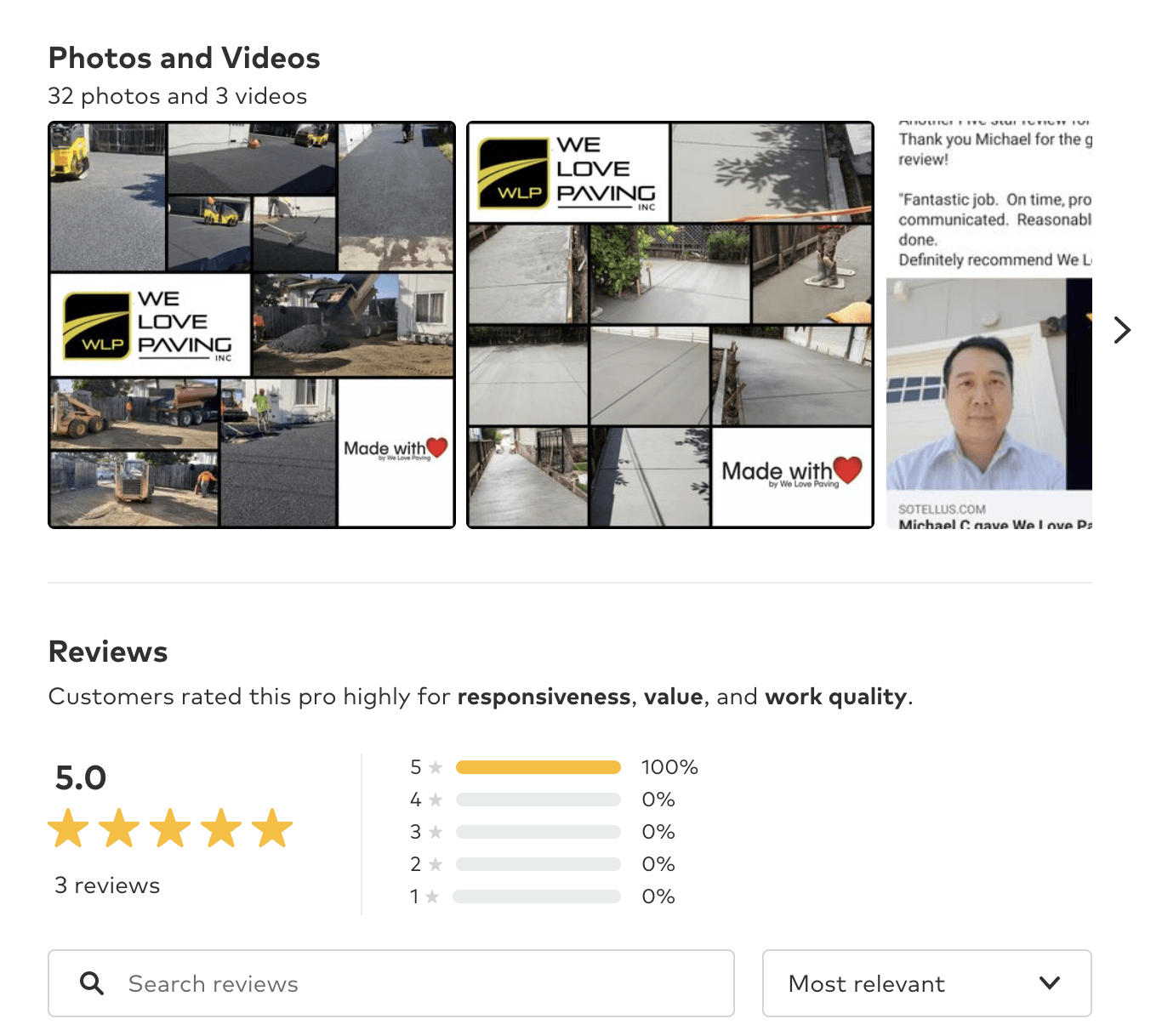 Thumbtack Loves Us
See our good reputation on Thumbtack.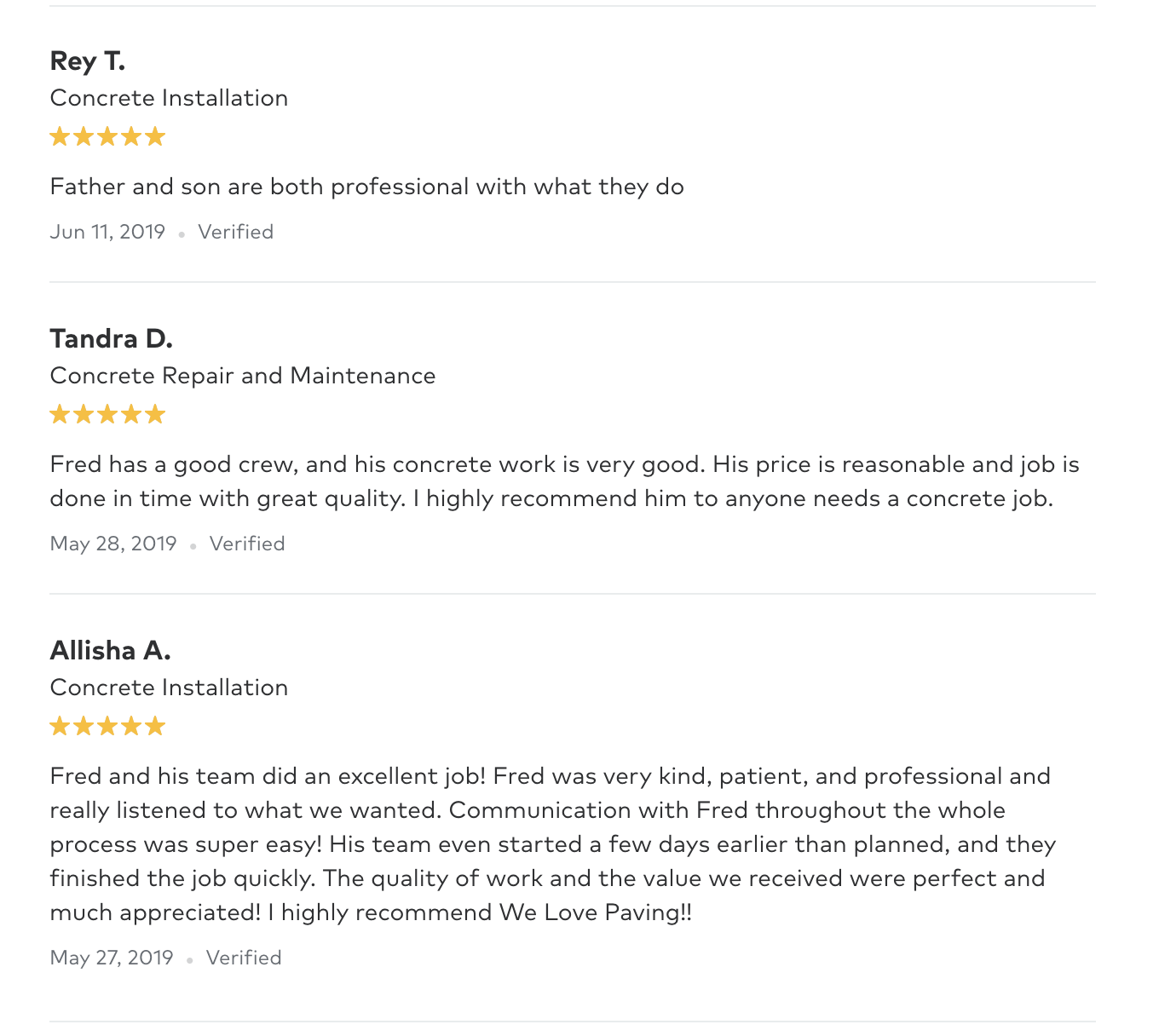 Thumbtack Loves Us
See our good reputation on Thumbtack.

"Excellent. Helped me complete my project on time."
John, General Contractor



"Will contract services with them again in the future."
Jane, Property Manager



"Recommend them to others."
David, Property Owner

Satisfaction Guarantee
We're not happy until you are.
A One-Stop Solution
A paving firm that has it all under one roof.
Free Consultation
Education based consultation to go over all possible solutions and options..
We service Northern California…
Headquartered in Santa Clara, CA
WE LOVE PAVING, INC – 5201 Great America Pkwy #320, Santa Clara, Northern California
The best paving construction firm for asphalt paving in Northern California!
Yes, we service all of the South Bay, Peninsula, East Bay, Tri-Valley and Contra Costa areas. San Jose, Sunnyvale, Palo Alto, Redwood City, San Mateo, Burlingame, Fremont, Hayward, San Francisco, Oakland, Concord, San Ramon, Pleasanton & Livermore.
Member of the American Paving Association (APA)